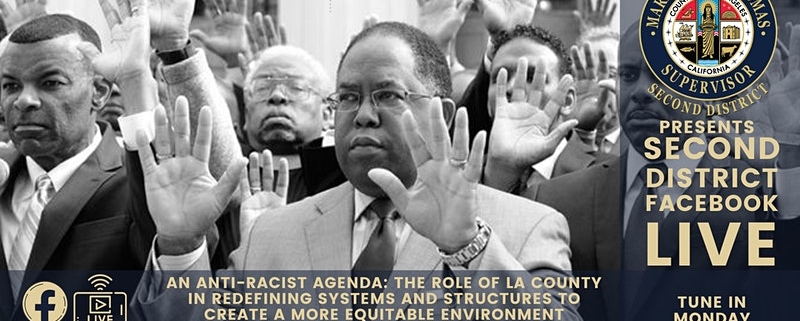 UCLA Center for Neighborhood Knowledge director Paul Ong was featured as a panelist for an online event #AntiRacistLA, hosted by Supervisor Mark Ridley-Thomas, in which a critical conversation was held to discuss ways to create a more anti-racist and equitable Los Angeles. Present-day economic conditions and social injustices brought to light by the coronavirus pandemic have propelled individuals to examine the inherently racist systems and institutions that compose America, and ultimately fight for justice upon unlearning and relearning.
"Just as racism can be learned, it can be unlearned and replaced with the beliefs, and policies to oppose it. While the arc of a moral universe bends towards justice, its march is not inexorable. Right now, LA County has an opportunity—and responsibility—to dismantle systemic inequities and racist structures that have long plagued us and set the national standard as a leader on racial equity and anti-racism" said Thomas in the description of the event.
You can watch the online event in its entirety at the links provided below.
Facebook: Recording of live event on Mark Ridley Thomas' account
Vimeo: Recording of live event without comments
Vimeo: Recording of live event, highlights only 
https://knowledge.luskin.ucla.edu/wp-content/uploads/2020/08/https-cdn.evbuc_.com-images-106997466-20516785162-1-original.20200726-000555.jpeg
400
800
CNK Staff
https://knowledge.luskin.ucla.edu/wp-content/uploads/2020/04/Uxd_Blk_CNK_Luskin_E.png
CNK Staff
2020-08-05 20:21:45
2020-08-13 20:34:14
#AntiRacistLA