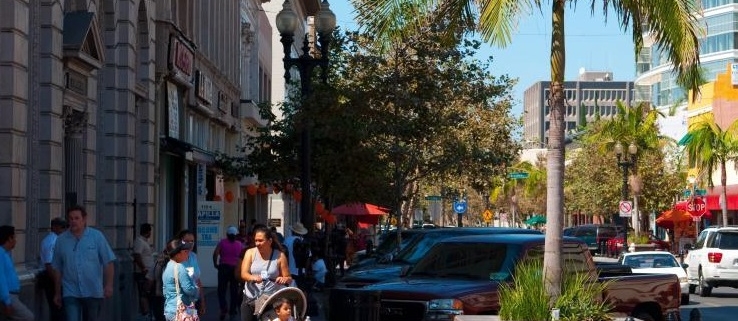 Orange County's low-income and immigrant neighborhoods and communities of color are most at risk of not receiving state and federal unemployment benefits, according to a new report, authored by Virginia Parks, professor and chair of urban planning and public policy; Douglas Houston, associate professor of urban planning and public policy, CNK Director Paul Ong; and Youjin B. Kim, UCI doctoral student in urban planning and public policy.
The report, "Economic Impacts of the COVID-19 Crisis in Orange County, California: Neighborhood Gaps in Unemployment-Insurance Coverage," finds Orange County's neighborhoods at highest risk of not receiving adequate economic assistance in the wake of the COVID-19 unemployment crisis are low-income, predominantly Latinx or Asian, and immigrant. And, the majority of the highest-risk neighborhoods are concentrated in Santa Ana.
To that end, they make the following recommendations:
Enact federal and state policy that provides UI benefits to marginalized populations least likely to receive UI benefits from the CARES Act, including authorized immigrant workers who may be deemed ineligible for federal Pandemic Employment Assistance.
Expand state UI outreach efforts, targeting marginalized populations least likely to apply for UI benefits. Fund community-based organizations to aid in this effort.
Create state programs targeted at providing economic assistance and social services to immigrant neighborhoods with high rates of unemployment.
Ensure that marginalized populations are aware of, and take advantage of, resources in the private and the philanthropic sector to help weather the COVID-19 storm.
Enact federal and state policies, and fund programs, to equip economically displaced persons with job skills that are marketable during and after the COVID-19 crisis.
https://knowledge.luskin.ucla.edu/wp-content/uploads/2020/05/istock-458649437-1_-_santa_ana_0.jpg
468
738
Silvia R. González
https://knowledge.luskin.ucla.edu/wp-content/uploads/2020/04/Uxd_Blk_CNK_Luskin_E.png
Silvia R. González
2020-04-25 13:14:44
2020-11-10 01:00:03
Economic Impacts of the COVID-19 Crisis in Orange County